Strong Points
Function
DIRIS Digiware D-50 and D-70 remote displays allow local visualization of measurements from DIRIS Digiware modules, and centralize the 24 VDC power supply and communication bus at a single point.

The D-50 and D-70 displays also act as the Ethernet gateway for all slave devices connected on the Digiware and RS485 bus.
Conformity to standards
UL 61010 Guide FTRZ/PICQ File E257746
Meter Selector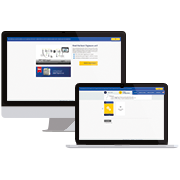 Meter Selector is the ideal assistant to accompany you in your multi-measurement and isolation monitoring projects.
References
DIRIS Digiware D is available in
X

versions
Advantages
Plug & Play
- Direct Digiware and RS485-to-Ethernet gateway.
- Automatic detection of connected devices.
- Easy setup.
- Safety Extra-Low Voltage 24 VDC power supply.
Multi-circuit
- One display to visualize measurement from up to 196 circuits.
- Quick access button to easily scroll through the different circuits.
Embedded webserver
WEBVIEW-M is embedded in the D-70 display to visualize measurements and consumptions remotely on a web-browser and without any license fees.
Advanced connectivity
The D-50/D-70 displays communicate measurement data to any BMS/SCADA system using multiple protocols: Modbus RTU, Modbus TCP, BACnet IP and SNMP v1, v2, v3 (encrypted).
Cybersecurity
D-50 and D-70 displays include advanced cybersecurity features in compliance with IEC 62443 to secure the data transmission and reduce the risk of cyber-attacks:
- Customized security policy (blocking or restricting certain protocols and services);
- HTTPS secured navigation using TLS/SSL certificates;
- Secured data exports (FTPS, SMTPS);
- Firewall and Whitelist rules to guard against denial-of-service attacks.
Email notifications
D-50 and D-70 displays can send email notifications in case of an alarm on a connected slave device.
Video presentation
DIRIS Digiware multi-point metering system.
Resources & Documentation